Digital technologies have proven powerful tools in the fight to improve maternal, newborn, and infant health outcomes globally, but particularly in low-resourced areas with weakened information systems or poorly integrated health infrastructures.
Innovative technologies accelerated the success of immunization campaigns against polio and measles, and offered a means for new and expectant mothers to receive advice and support during COVID-19 without risk of transmission. This, paired with sharply rising mobile penetration and ownership across many low and middle income countries (LMICs), lays promising groundwork for widespread digitally-connected healthcare in the future.
But while healthcare is transformed for some, many are left behind. Growing availability of digital health tools in many of the world's low-resourced areas is encouraging, but across social, geographical, economic subdivisions their accessibility is less clean cut; one in three people in rural areas lack access to adequate mobile networks in LMICs, women are, on average, 14% less likely to own mobile phones than their male counterparts, and further 'access gaps' exist across indigenous, religious, and ethnic groups, linguistic minorities, persons with disabilities, and those with lower literacy.
Until access to digital tools becomes more ubiquitous, health development simply cannot take place as quickly as required to meet 2030 SDG targets to reduce global maternal mortality. And we are some way off. We often talk about reaching the 'last mile' of mothers and their babies (though, of course, this is paramount), but digital tools are still failing to reach a staggering number of rural and remote women in the lower wealth quintiles who, by nature of being further from health facilities or less financially able to access quality care, would benefit most from remote, affordable mHealth solutions.
Access starts with design
Too often, digital health tools are developed, rolled-out, and adapted without the input of those they intend to serve. Jacaranda Health, a Kenya-based non-profit, now offers advice, information, and emergency referral to over 1 million new and expectant mothers through its SMS-based digital health platform PROMPTS. Arriving at this milestone has meant an ongoing process of testing and adapting, of reconfiguring design, and building channels for women to feedback on services – a process we'll continue to leverage as PROMPTS expands. Here's what we've learnt.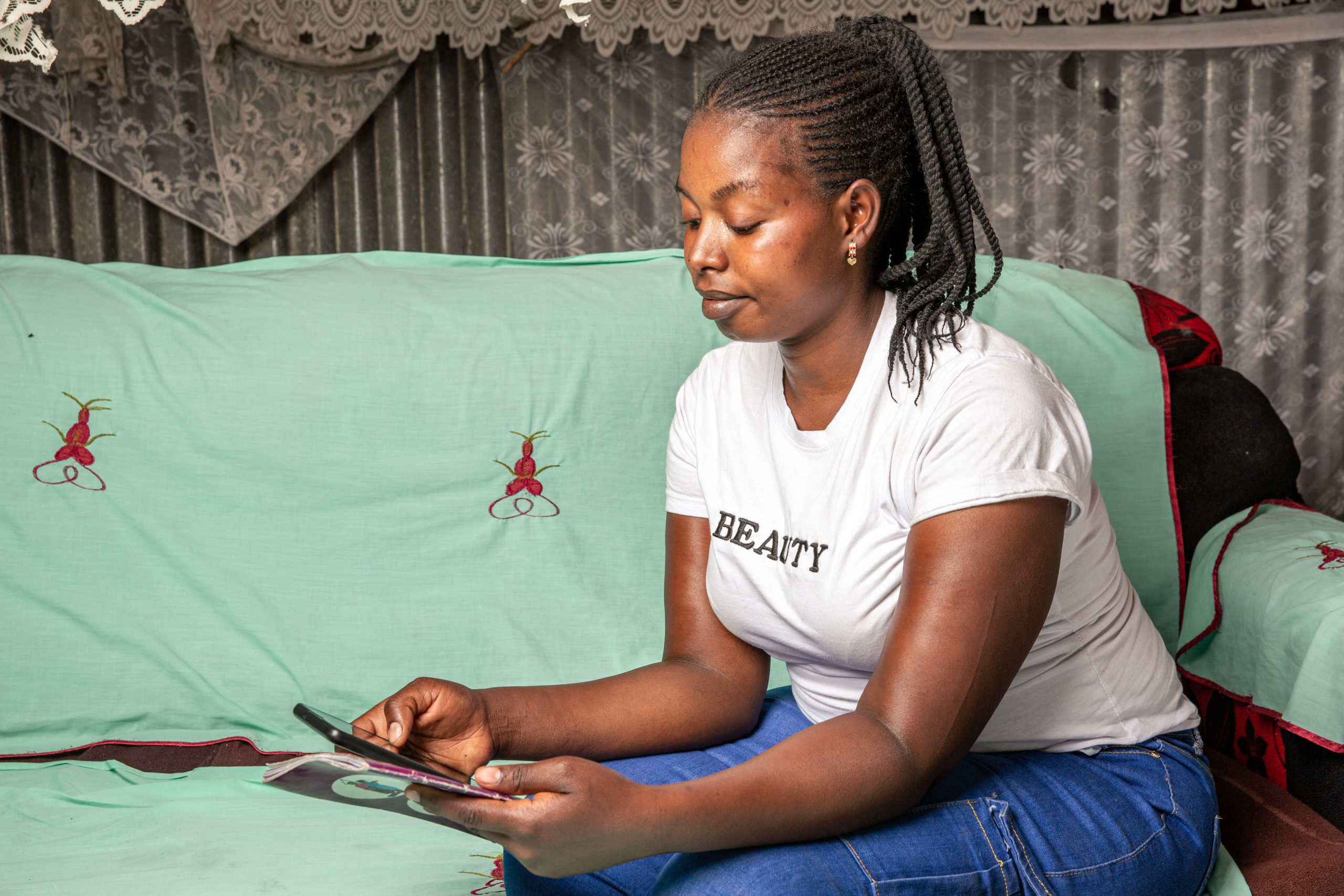 Choose a technology that doesn't transfer cost to the end-user.
The growing use of apps in maternity care shows encouraging signs of increasing patient education and narrowing the knowledge gap in health disparate communities. When Jacaranda sat down with its target market – mothers – to develop a two-way digital health messaging tool, SMS became the clear frontrunner for the technology it would run on – accessible to 95% of the population, widely cheaper than buying data, and using no storage memory. Apps might offer a slick visual interface but SMS delivers a no-frills service to help all women navigate their pregnancy journeys, regardless of the phone they or a partner uses or their ability to buy data.
Put human-centered design at the heart of testing and adapting digital content. 'Self care'-based digital tools that aim to make women agents in their own positive health outcomes should, by definition, be built with and for their users. This includes accounting for and building in the vastly different needs they have depending on age, familial set-up, gestation stage, clinical history, or geographic location. But fully personalized mHealth tools often have a catch; set at a higher price tag (eg. subscriptions) or requiring the user to submit enough personal data to make it feel tailored. Offering women channels to routinely, and anonymously share their feedback is a way of getting round this.
For PROMPTS, this direct line with its users has helped test assumptions about what, how or when a mother might want to be engaged. A message suggesting newborns should be read stories is prohibitive for women without the financial means to buy books, in the same way that encouraging a mum to eat carbohydrates like pasta and porridge will not resonate with a woman who can't find these at her local market.
Training contextually-relevant AI models
Making content inclusive also means looking at language. Whilst historically, AI tools have primarily been built on English source tools, it is only recently that source material has started to be designed for the African context. This June, giant tech conglomerate Meta announced its open-sourced 'No Language Left Behind' NLLB-200, a single AI model that translates across 200 different languages, including 55 African languages.
Digital technologies aimed at improving health for women in Kenya should be considering multiple languages to meaningfully engage their users; Swahili, English, but also local dialects. Innovations in artificial intelligence (AI) married with a rising demand for their localization offer an encouraging means of bridging both digital and linguistic divides.
Take a 'portfolio approach' to engaging women with digital tools.
Beyond the barriers of access and relevance, many struggle with knowing digital health solutions exist in the first place. Enrollment to PROMPTS is primarily done through public health facilities, where the majority of underserved women in Kenya seek care, but we realize that for some women – especially those in the lower wealth quintiles – financial limitations and travel times may prevent them from going to the clinic.
Engaging Community Health Workers (CHWs), typically-trusted sources of information and advice within communities, is one way of reaching hard-to-reach or remote populations, but also a means of incentivizing women to take up and use digital tools. Innovations like Interactive Voice Recognition (IVR) are already starting to bridge digital informational gaps for less-literate and illiterate populations.
In an increasingly digital age, healthcare and digital transformations are becoming intrinsically connected.
Unleashing the potential of digital health for all mothers and their newborns will not only require multi-sectoral action to close the digital divide and an increased investment from governments in cost-effective digital solutions, but also a due focus on user-centered design of digital tools that will allow everyone to enjoy the benefits of digitally enabled care.