The Global Context
Immunization is hailed as one of the greatest global health success stories, achieving significant gains in driving down rates of child mortality worldwide. Thanks to global efforts to strengthen immunization, deaths from measles, a disease accounting for half of all child under 5 deaths worldwide, fell by 74% between 2000-2007, and the incidence of polio has decreased by 99%.
Advances in vaccine technology and distribution now mean more infants than ever can access immunizations, yet against this backdrop of success a major data challenge has emerged – namely, how to identify and reach under-immunized babies and infants when coverage is already high.
Immunization challenges in Eswatini
Over the last decade, robust infant immunization campaigns implemented by Eswatini's Ministry of Health (MoH) and Expanded Program on Immunization (EPI), have achieved high immunization coverage of around 90% across the country. However, the emergence of COVID-19 brought about widespread disruptions to routine immunization, weakening vaccine supply chains to facilities, and leading to a shortfall in healthcare workers to administer them.
This has led to an increase in immunization defaulting – or missed vaccinations by schedule – amongst younger mothers in Eswatini, stemming from a number of potential factors, including lack of access or availability to information around vaccines, adverse effects following immunization (AEFI), or wider systemic failures such as poorly-coordinated immunization services and vaccine stock outs.
A low cost, scaleable solution
The Clinton Health Access Initiative (CHAI) Eswatini country team, the Expanded Programme on Immunization (EPI) in Eswatini, and Jacaranda Health have announced a new partnership centered around leveraging PROMPTS – Jacaranda's AI-enabled digital health platform – to improve immunization tracking at the level of mum and baby, and identifying geographic hotspots of weak immunization across the country.
The PROMPTS technology and messaging will be adapted for the Eswatini immunization context and piloted with 500 mothers across all four regions of the country for a 6-month period, with the goal of scaling the platform nationally should the pilot prove successful.
Digital tools like PROMPTS can serve as a low-cost, scalable approach to closing the immunization gap, generating high-frequency, real-time data on where, when and how to reach under-immunized infants, and empowering mothers with information to take their babies for vaccination at the right time.
PROMPTS has already proven successful in helping the Kenyan MoH move the needle on key public health indicators around immunization coverage. 20,000 mothers across fifteen counties in Kenya have actively responded to SMS-based questions on their baby's immunization status, including vaccinations taken by schedule, with 16% of these mothers reporting that their baby had not received at least one of their scheduled immunizations.
How it works
PROMPTS relies on SMS technology, which is accessible to 96% of Eswatini's population, to send mothers information about child immunization. This includes providing information on which and what type (oral vs. injectable) of immunizations their baby should receive at their next visit, and reminding mothers when to take their babies to the clinic for vaccination by tracking from their delivery date. Building on its two-way SMS messaging and data collection capabilities, PROMPTS will also ask questions and receive responses from mothers on key factors contributing to defaulting as they occur, such as AEFIs or facility stock outs.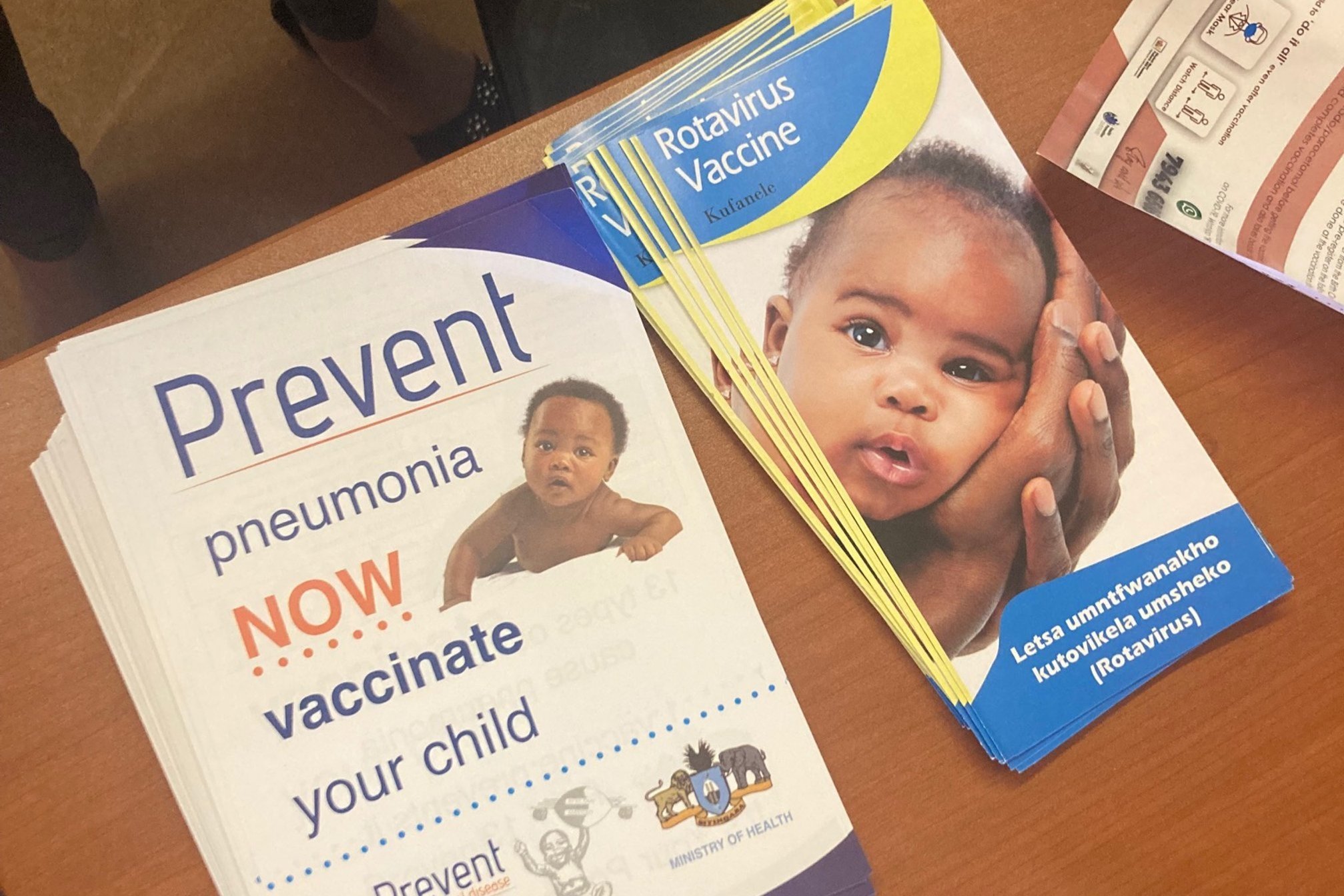 Working hand-in-hand with government
A key part of the pilot will focus on supporting health system managers to track low-immunization 'hotspots' and take action in a targeted, resource-efficient manner. Mothers' responses will be collected and shared with government partners in Eswatini via a simple, free-to-use dashboard, tracking geographic hotspots of weak immunization coverage, vaccines administered by type (diphtheria, pertussis, tetanus, TB, pneumonia, rotavirus, and polio), and missed appointments by immunization schedule (at birth, weeks 6, 10, 14, and months 6, 9, 12).
By closing the feedback loop between health system administrators and their clients, and giving mothers a voice in the health system, the partnership will support the EPI to develop targeted immunization campaigns to reach the right mothers, in the right areas, at the right time, with information that speaks to their needs and concerns.
The combination of mHealth and sourcing information from end beneficiaries (mothers) offers a unique approach to identifying and reaching under-immunized children within areas of high immunization coverage, ensuring all infants in the country receive their full dose of vaccines as a basic human right.