Identifying a source of blood in emergencies is a time-consuming and life-threatening challenge for healthcare providers in Kenya. Jacaranda Health has built a tool which provides access to real-time blood supply information, and we are sharing a guide for other organizations to replicate it.
A few months back, members of our Nurse Mentorship team witnessed two cases in government hospitals that left them heart-broken and frustrated. A mother in the maternity ward needed blood that wasn't available at the hospital. The nurses on duty spent hours calling neighbouring facilities but none of them had blood. Unfortunately, by the time they managed to track down the supply from a satellite blood bank in another county, it was too late and the mother was already lost.
Only a few days later, one of Jacaranda's mentors was present at another facility when a similar issue arose. Nurses and doctors, and even she herself, took to the phones to call other facilities, desperate to find the blood that could save this mother. With all hands on deck, they finally managed to find supply from a combination of two facilities, and the mother was saved.
"Something is not working here," says Esther Hinga, our senior program coordinator for Nurse Mentorship, describing these emergencies. "The nurses were frustrated, the doctors were frustrated – they were doing their best to provide care, and yet this issue of blood supply is taking lives."
According to Esther, an experienced nurse, nothing is more stressful than looking for blood. In the current system, healthcare providers must manually call neighboring facilities and labs to track down blood supply, hoping that they will have the right type and amount. Providers spend precious minutes searching for the blood they need, when that time should be spent with their patients.
Setting up a blood supply tracking map using free, open-source tools and simple coding
In the wake of these incidents, we held meetings with members of the county reproductive health team, nurses, and officers from the satellite blood bank to better understand the challenges and to potentially support the design of a solution. The aim was to create a solution that streamlined the process of identifying an adequate source of blood, while not being a burden to busy providers and lab managers.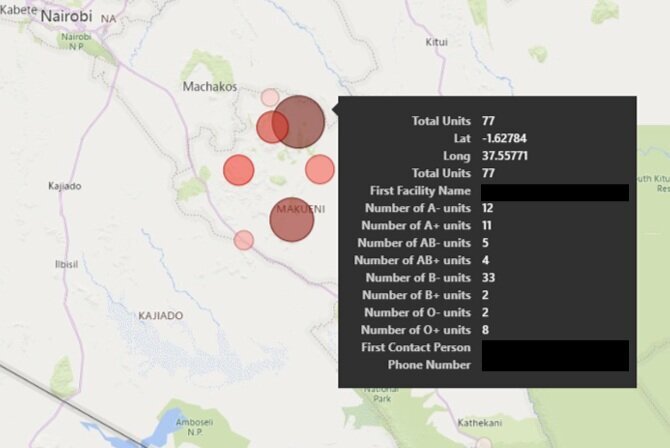 Using simple tools like Google Forms, Sheets and My Maps, our tech team put together a prototype for a blood supply tracking map. We prototyped a few versions of the solution to ensure that it captured the requirements of providers on the ground, while being light touch and user-friendly. Facility staff spend about 5 minutes a few times a day to input the current blood availability information into this tracker. This creates an accurate database of the most recent blood availability status across county facilities.
This information is automatically uploaded to a map with the GPS coordinates of the nearest facilities in the County. With this tracker, providers can easily see the nearest available blood, by type and number of units, simply by opening a map. The tracker also provides facility contact details so that blood orders can be facilitated quickly.
We piloted the tracker in a few facilities in Makueni County to test out the prototype. Our team trained a number of providers on how to use it, and support from county and blood bank leadership ensured that providers were taking responsibility for keeping the tool up-to-date and owning the process.
All of the nurses had experienced the stress of tracking blood supply in an emergency, and quickly saw the value of this tool as a way of supporting mothers, and each other as peer nurses, across the county.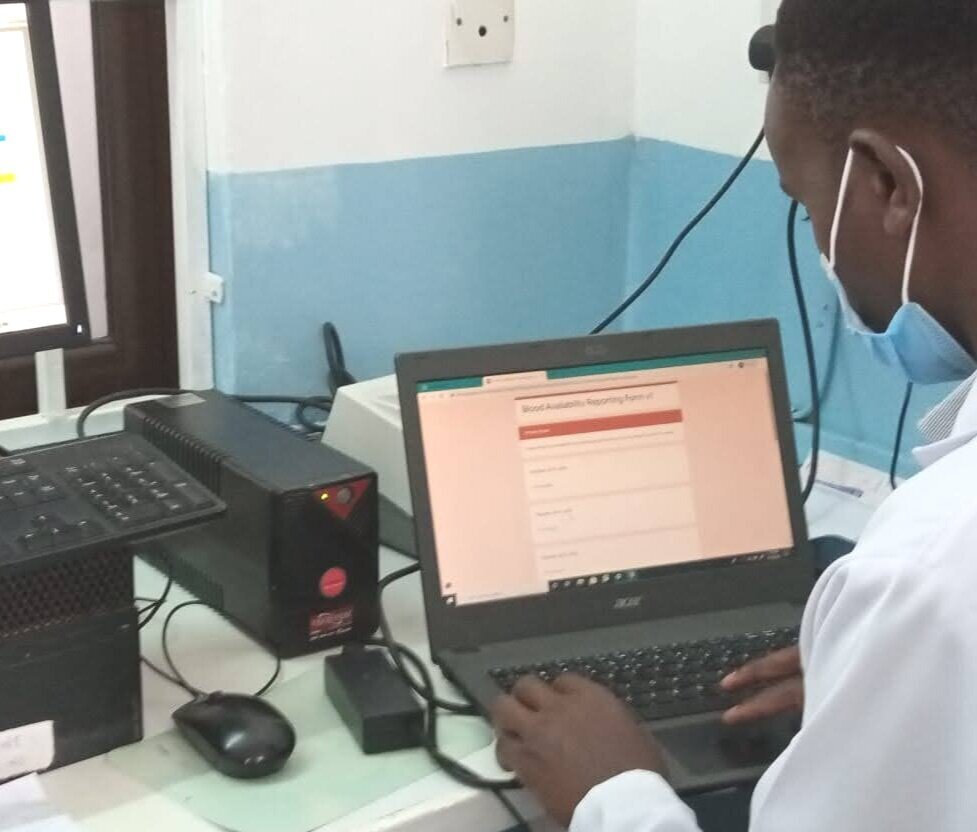 Reducing the time needed to access blood supplies in emergencies
The results from the pilot have been promising. We now have 9 facilities in Makueni County actively updating the tracker an average of 3x per day. Lab managers report they can easily input data, and providers indicate they are able to locate blood quickly.
With this tool, Esther says, "the turnaround time for care becomes shorter, and reduces the chances of losing a mother in need. If it is well used, it can really make our lives easier." The conversations are changing from: "Do you have this supply?" hoping you have called the right place, to "You have this, please send it."
We are now setting up the tracker in other counties, and even see a future where health management teams can use this information proactively, to improve distribution across facilities, based on historical demand and real-time supply.
This tool does not solve all challenges when it comes to blood supply. For example, it does not increase the total amount of blood supply available to public health facilities. However, it is a step towards limiting the unnecessary, life-threatening delays in obstetric emergencies by ensuring that providers can save precious minutes and keep their attention where it should be: caring for mothers and babies.
Sharing a blueprint for others to replicate
Access to blood supply in emergencies has proven to be a challenge in many of the facilities we support, and we have seen firsthand how using quick-and-easy technology can streamline the process of tracking it down. We've often found in our work that simpler tools are easier to adopt, easy to replicate and fix, all while getting the job done. This blood tracker tool is a prime example of this.
We have created a 'how-to' guide for others to use to set up their own tool for tracking blood supply. The software used for this tracker is free and open-source, and only takes minutes to set up. The guide includes step-by-step instructions on how we built this tracker so it can be easily replicated.
We hope that this guide will help organizations supporting front-line healthcare have similar results to reducing the time needed to find blood, and reduce preventable loss of life. We also hope to learn from user feedback so that we can collectively make a better tool.